INTERIOR IMMERSIONS
Tutor: Liz Lambrou
In recent years the application of topological concepts and methods to the study of dynamic systems has led to important advancements in our understanding of some basic aspects of the behaviour of complex phenomena appearing in different domains – material structures, living organisations and cognitive processes.
Beside their intrinsic scientific importance, the new universality patterns emerging in such phenomena have significant implications for philosophy such as the venerable problem of morphogenesis, or generation of forms Bernard Burgoyne, TATE Modern, Topology Project 2012.
This studio explored networks and spaces of transformation within the context of topology theory. Students considered interior space in terms of properties of connectedness and invariance under transformation. Drawing upon the conceptual language of topology to consider relationships, intensities and transformations of this new theory outside its original field of mathematics. Concepts of pathway, boundary, interior, exterior, disconnection, movement, multiplicity, differentiation and exclusive inclusion were tested through real and imaginary scenarios.
Observing dissecting and recreating real and imaginary scenarios inside, outside and within physical and digital formats. Students experimented with different topological modes through data visualization, mapping, infographics, cartography, pathways, contours and extrusions within real and imagined site locations. The findings sought to understand space as immersion in multiple, complex processes of transformation and flux.
DESIRE LINES
Tutor: Sanné Mestrom
This studio explored concepts of creativity, connectivity, movement and transition in public spaces: the interaction between public life and public interiors. Such spaces included museums, libraries, train stations, atriums, arcades, plazas, market places, public commons and malls, special areas within convention centres or grounds, sites within public buildings, lobbies, concourses, or public spaces within private buildings.
Designing through observation, research and site-specific interventions, as well as exploring creative strategies for the future of the site, this studio developed experimental and explorative tactics and modes of working - through site-analysis, mapping, diagramming, collage, measured drawing, modelling, intervention and installation - in order to address the complex ideas of creativity, connectivity, movement and transition in interior public spaces.
CAPTURED MOMENT IN TIME
Tutor: Sarah Pallisar
Within our diminishing availability of time, we look inward to our cityscapes to produce and nourish our human requirement. We lavish money on beautiful buildings that hold previous works of art, literature, objects of past and presents masters, to inspire us and in essence view their documented perspective.
Hotels, advertising and religion all express their culture using Architects, Atmospheric consultants and lighting designers (in one form or another) to translate their ideals into our physical world.
This studio explored the creation of space by capturing a moment in time. In order to achieve this, students first experienced a moment, harnessed it, understood it – and broke down the components that contributed to this snap shot in time and emotion. Using poetry, rhythm and harmony as tools of translation, students created a brief that formed a descriptive narrative, to then draw from in the creation of a physical spatial form or sculpture.
ARTIFICIAL ECOLOGIES
Tutor: Eugenia Lim
This studio explored concepts of 'manufactured landscapes', constructed territory and contested space – how and why artists, designers and power brokers make and mark space in the representation of a site, a self, a culture or a state. Within the Anthropocene (the 'Age of Man'), our current unofficial but widely accepted geological epoch of human-induced climate change, the border between nature and culture and the 'authentic' and 'artificial' is increasingly unstable, even irrelevant. From Robert Smithton's Spiral Jetty to the artificial islands of Dubai, artists and powerbroker mark and make territory to express site, selfhood and sovereignty. Tracing a line between the personal and the political, the individual and the geopolitical, students researched territory-making/marking by investigating contemporary and historical art, film, architecture and geopolitical actions. Through a combination of in-class and field research (exhibitions, artist talks, public artworks, buildings), film screenings and practice-led design experiments, students engaged with the social and cultural imperatives of spatial design, with consideration on the role of interior design and the designer in shaping of both space and society.
STUDIO GOODWOOD
Tutor: Jess Wood + Rob Sowter
This studio will explored in a theoretical and pragmatic manner the questions 'what are the minimum requirements for human shelter?' and 'what is the relationship between ritual and interior?'. Including a travel component to the bush in Goodwood, Queensland, to test ideas of utilitarianism and ritual in dwelling, through 1:1 making. Huts have a rich history in ritual and retreat - the hut as metaphor for dwelling, and its relationship to ritual, were investigated and tested across scales, locations and cultural contexts. Reading and developing positions on modernity and existentialism, utility and beauty and context and the vernacular.
Relocating to Queensland for 10 days in the middle of semester, students were asked to challenge our ingrained notions of 'shelter', designing and making in the bush, actively participating in communal dwelling, a regional context and the minimum required for comfortable living.
Using the built outcomes in Queensland as a common starting point, students were asked to develop individual design outcomes for their final assessment that reflected both the construction knowledge gained and the experience of camp life.
URBAN ECO ACUPUNCTURE; URBAN INNOVATION DISTRICT
Tutors: Michael Trudgeon & Chris Ryan
With the arrival of the Melbourne Metro project, Carlton Connect, the RMIT New Academic Street and the Redeveloped Queen Victoria Markets, this under utilised area of Melbourne, bounded by The University of Melbourne, RMIT, Carton and the Queen Victoria Market, will become a highly accessible hub linked to the city and the inner western suburbs. This connectivity will bring great economic and social pressure. Here is an opportunity to create a set of vibrant, sustainable urban experiments, urban interiors, connected social spaces, new service systems and new products, a living laboratory to test radical propositions across may scales of intervention from urban design, architecture, landscape architecture to interior design, industrial design and service design .
This design studio worked extensively with the principal stakeholders currently planning the Urban Innovation District who informed and responded to the studio project work throughout the semester. With focus on 5 urban sites within the district selected by the key stakeholders and matched with design briefs that emerged from current design discussions that address the challenges of social and environmental resilience.
The projects took on the disciplinary expertise of interior design, industrial design, architectural, landscape and urban planning strategies along with way-finding and service design. Students developed design interventions to transform the existing built environment and systems of provision (energy, water, food, transport, information) for a sustainable, low carbon, resilient future. Developing detailed designs for the identified sites to shift the path of innovation on a new trajectory: towards sustainable, resilient conditions.
WHERE THE WILD THINGS ARE II - A CreATURELy LifE
Tutor: Andrew Miller
This studio worked on the premise that architectural design is a semi-living thing Eg. In all its guises (for better or worse) - it is affective. This premise was explored through a 'live' project - the design of a tourist Lodge at Lake Michaelson, Mt Kenya National Park, Kenya - a collaboration between the Kenya Wildlife Service (KWS) and a private developer, studio leader Andy Miller. The site is a sensorial wonderland of environmental conditions; situated at 4000m above sea level on Mount Kenya, subject to dramatic changes in climatic conditions; sun, snow, winds, ice, and clear starry nights to name a few. Situated on the banks of a glacial lake, the site is home to a peculiar array of flora and fauna whilst embedded within a complex set of socio/political relations.
Students developed and proposed speculative design for a cabin (from the inside out) that expressed, amplified and questioned the concept of semi-living architecture. Approached through an analysis of the client brief and the continuous relationships between interiority, exteriority, technical, cultural and natural systems encountered at and around the site.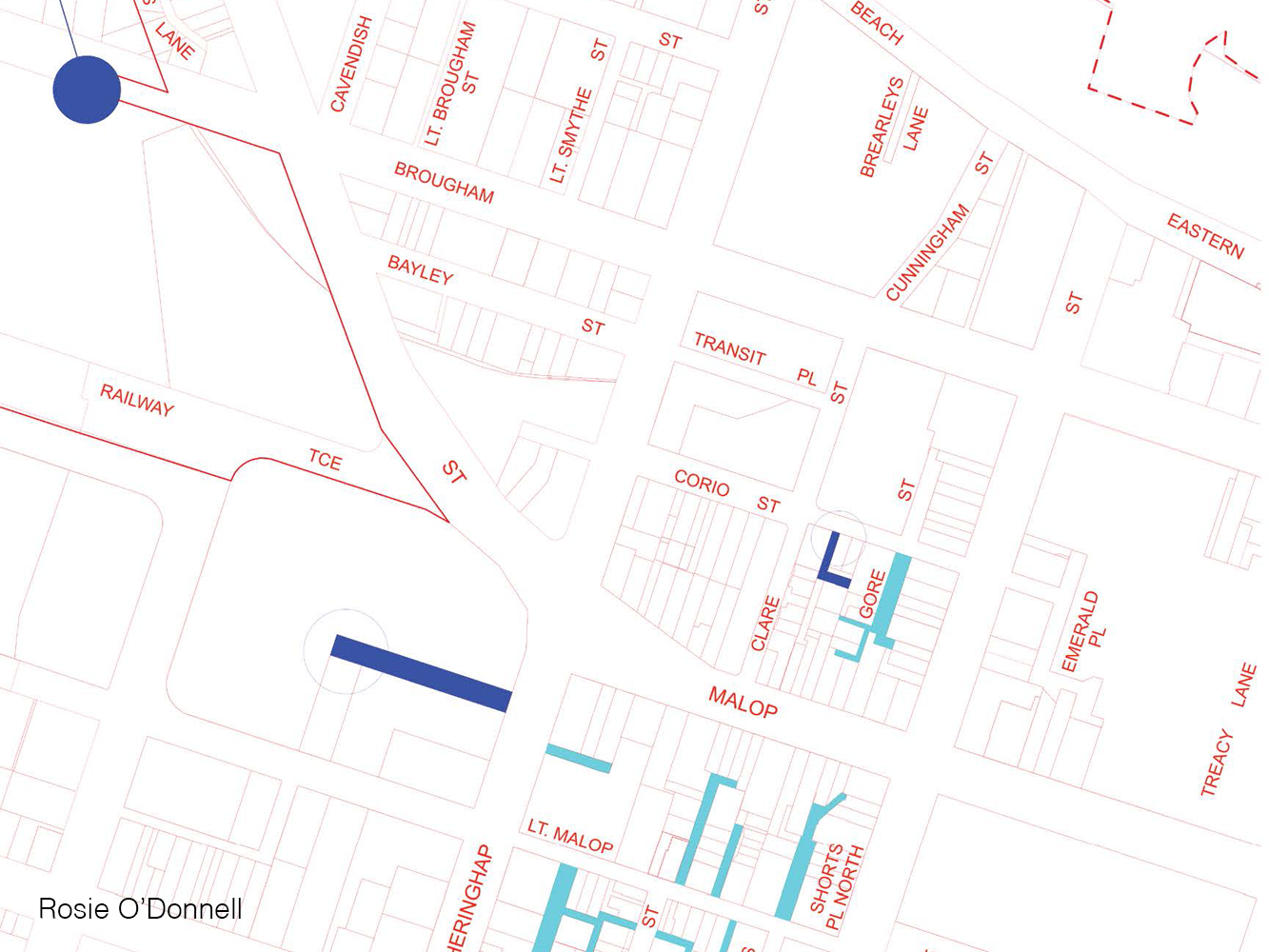 #encounter @geelonggallery
Tutors: Alice Parker + Sarah Cooper
This studio explored the rapidly changing City of Geelong. The disappearance of large manufacturing facilities and workforces presents the city with tremendous challenges. With the Geelong Gallery as the client, this studio explored the cultural future of the city by engaging with the city council, cultural tourism in Victoria and other institutions to develop possible future narratives of cultural engagement – grounded in the practice of Interior Design.
The aim of this studio was explore how the gallery might expand its engagement with the existing Geelong community. The objective was to address the city through utilising existing [interior] spaces via spatial interventions and technology. Outcomes of the studio proposed as a potential program initiative for Geelong Gallery – a space where ideas can be explored – not only about showing art, but how to engage with the public.
ROOM OF THE PRESENT
Tutor: Debra Kunda
The title of this studio is borrowed from the experimental Bauhaus artist, designer and educator László Moholy-Nagy's conception of an immersive exhibition space extolling the virtues of art and design innovation, for the benefit of humanity. Working across the mediums of painting, photography, drawing, sculpture, film, light and stage design, Moholy-Nagy experimented in new technologies and mediums to construct active and immersive spaces to capture the post war zeitgeist and optimism for the future. This studio, Room of the Present explored similar themes of contemporary design innovation and experimentation, but with reference to notions of space, place and identity.
Using the context of the ever-morphing and changing city, this studio explored space as a dimension of multiplicity, and considered questions of how dynamic and charged spatial environments can shape, sustain, unite, transform and splinter social relations and perceptions of place.
FOYER
Tutor: Phoebe Whitman
Foyers' are laden with social stigma. Foyers are places that represent who is within and the position or status within social or commercial values. Foyers are the possible consequence of built form were the in-between space takes on a life of its own due to certain activities and situations. There has been a growing tendency to consider foyers as more than just a means to move from A to B or from the door to the elevator. Foyers have the potential to be encountered as experiential and social.
This studio examined the topography and context of foyers. Initially, students studied a range of conventional, historical and contemporary foyers, each with distinct characteristics. This undertaking included site visits to a series of foyers within Melbourne.
This studio examined the foyer as a place and situation with varying spatial and social characteristics. By drawing upon a range of concepts, such as speed and slowness, depth / surface, movement / stillness, private / public, infinity / shallowness, the foyer transformed. Asking students to engage with approaches to arrangement and configuration by drawing upon the context of set design, installation art and exhibition design. The potentials to draw upon spaces of reflection and contemplation such as galleries, exhibitions and installation art, offered a means to alter the foyer as a place of comfort and propose ways to reimagine passage and time and insert new patterns of movement into the foyer.This studio explored the foyer as an in-between space and students engaged with ways to transform the transition from outside to inside, between here and there. It also addressed ideas related to topography, offering up ways of exploring various spatial proportions, dimensions and layers. Student developed strategies for disrupting, challenging and innovating notions of comfort, waiting and orientation.
INSIDE I OUTSIDE
Tutor: Caroline Vains
This studio investigated how applying strategies and values of an interior design practice can generate a sense of interiority within the landscape; how, in other words, to design an inside outside. Approaching this investigation from both 'sides' – in and out, exploring ways to gather the extended landscape into interior space, on one hand, and design for the intimate experience and purpose of human occupation, on the other. Embracing the opposite scales that these two 'sides' suggest and, in doing so, transform an extended landscape into an interior place.
The project brief was issued by the Governor and asked students to propose a suite of designs – inclusive of pavilions, pergolas, thresholds, garden furniture, and outdoor kitchen - in and around the newly planted kitchen garden to the rear of Government House. The intention is to give the garden a human-scale in its larger landscape context, to infuse it with a sense of place, and transform it into a suitable space for hosting the Kitchen Garden program. The primary aim of the program is to bring migrant and refugee women together to grow, cook, and share food. The program will also reach out to include members of the wider community and, in doing so, assist all participants to foster cross-cultural connections, understanding and learning. To address this aspect of the brief, this studio drew on philosopher Emmanuel Levinas' intimately interior concept of the face-to-face relation and ensure the final designs facilitate human encounters with otherness and invite participants and other visitors into events of human exchange. In this sense, the studio aimed to apply the strategies and values of an interior design practice to mediate between two oppositional pairs: inside-outside and resident-migrant, with the latter clearly related to the former.
PATTERN
Tutor: Michelle Mantsio
This studio explored pattern through a series of experiments that introduced a variety of approaches and techniques exploring the breadth of the medium. Individual projects were developed using film, literature, theatre, dance or music as source inspiration to research and affectively respond to the work through pattern construction, design and application.
Students selected a single piece of film, literature, theatre, dance or music as the base thematic source to develop their final projects. Outcomes included surface design (ie. wallpaper, upholstery); structural patterns (ie. weaving, tapestries, construction) and/or relational installations (ie. light, stages, sets). Final design projects were approached through an interrogation of areas such as recognition of repeated everyday practices, affect, narrative, environmental flows, body rhythms, etc.