BOUNLESSNESS; EXTENDING THE FIXED LIMITS OF OUR HABITUAL VIEW
This studio investigated micro public spaces usually found on the periphery. The idea was to expose and adapt to the existing elements and conditions on the extreme edges of public space. Students realised small-scale artefacts through site analysis within inner city locations. Students considered how to inhabit and harness left over space and fragmented sites. What constitutes a state of place? How can space/place accommodate the fluidity of various contemporary phenomena? Through the growth of city, infrastructure has created many isolated corners and pockets of unused or inaccessible space. The studio investigated the accidental urban vernacular, the students acted as urban detectives by cataloguing through photography/ mappings /collage/ diagram/ installation - the agility of Melbourne's fabric locating sequential boundaries and surfaces hard /soft/ blurred /invisible to produce radical programmatic collisions and customisation.
WHERE THE WILD THINGS ARE - A CreATURELy LifE
This studio worked on the premise that architectural design is a semi-living thing, e.g. in all its guises (for better or worse) - it is affective.
This premise was explored through a 'live' project - the design of a tourist Lodge at Lake Michaelson, Mt Kenya National Park, Kenya - a collaboration between the Kenya Wildlife Service (KWS) and a private developer, studio leader Andy Miller and associate, Chen Canhui. The site is a sensorial wonderland of environmental conditions; situated at 4000m above sea level on Mount Kenya, the site is subject to dramatic changes in temperature, sun, snow, winds, ice, clear starry nights, a glacial lake and peculiar flora and fauna whilst embedded within a complex set of socio/political relations.
 
HOME SWEET HOME
To 'Own Your Own Home' was always the Australian dream. The ¼ acre block in the 'burbs. A garden, a shed and a dog. Today, the dream is all but gone; instead we are faced with a much different reality. Changing demographics, property prices and a cultural shift of lifestyle choices all contribute to an Australia who cannot afford to own their own HOME. The studio began by exploring hotels as reference to expand the current paradigm for residential living. Hoteling models have been diversifying in recent years to appeal to an ever-aware market. Similar advances in residential design are limited and often based on construction technologies rather than design solutions.
 
DESIGN FOR CARE
Through the Designing for Care studio we introduced RMIT Interior Design students to co-design within the healthcare context. The studio addressed a range of issues, including, but not confined to: what could a care practice look like? Where is traditional interior design and architecture failing to provide environments that cater for the social and emotional experience of people – in addition to fulfilling their treatment needs? How can we understand the lived experience of people as they move through and beyond the healthcare experience? Can we adopt a person-centred approach across the whole journey, which recognises the humanity and individuality of the person before the health experience, during and after treatment? How can design thinking and interior design practice, which is focused on understanding social and emotional relationships in the spatial context, bring new ideas to existing patient experience issues? How can co-design ideas be adapted to a spatial practice?
PERFORM // REFORM
Tutor: Qianyi Lim
PERFORM//REFORM explores the contexts surrounding socially performative space in both formal and informal settings. Students will undertake theoretical research into performance investigating film, dance, art and set-design. From this position students will explore the CBD to understand informal social performance. A final design outcome will combine these findings and focus on a key performance space in Melbourne's north. The studio will focus on the ideas surrounding socially performative spaces and how interior architecture can reform that process. The theoretical context of performance will also be explored, where students will undertake precedent analysis of past and current performance media including dance, performance art, theatre and film. Additionally students will look at the informal social performances that occur in everyday life and how the urban and interior fabric allows these performative actions to take place.
THE OUTSIDE MIND; DEMENTIA AND INTERIOR DESIGN
Tutor: Rosie Scott
This studio aims to explore ways in which interior design practice can respond to and positively affect living scenarios for people with dementia and their carers. The notion of 'care' will be explored as both a design methodology (a practice of care) and as the location for the studio (residential care). This studio aims to address the many physical, spatial and logistical challenges and dementia care environments, whilst also responding to the overlapping notions of interiority that relate to dementia. The etymological root of the word 'dementia' literally means "being out of one's mind". This idea of an outside mind, or a psychological dislocation is compelling in the context of an interior design practice responding to dementia care environments.
INHABITING THE MAP; CATOGRAPHIES OF URBAN LIFE
Tutor: Sanné Mestrom
Inhabiting the Map will give students the opportunity to explore memory, loss, gain, movement, and transition in the context of public space – interior and exterior.
Mapping is a process of trying to understand the relationship between the world and the self. Students will gain an understanding of the differences between physical space and representational space through briefs that map the self against the physical spaces they occupy. Through site-responsive projects and urban interventions the studio will raise questions such as: how do we inhabit site, and how is the 'map' itself inhabitable? How reliant are we on the map? And, can we exist without it?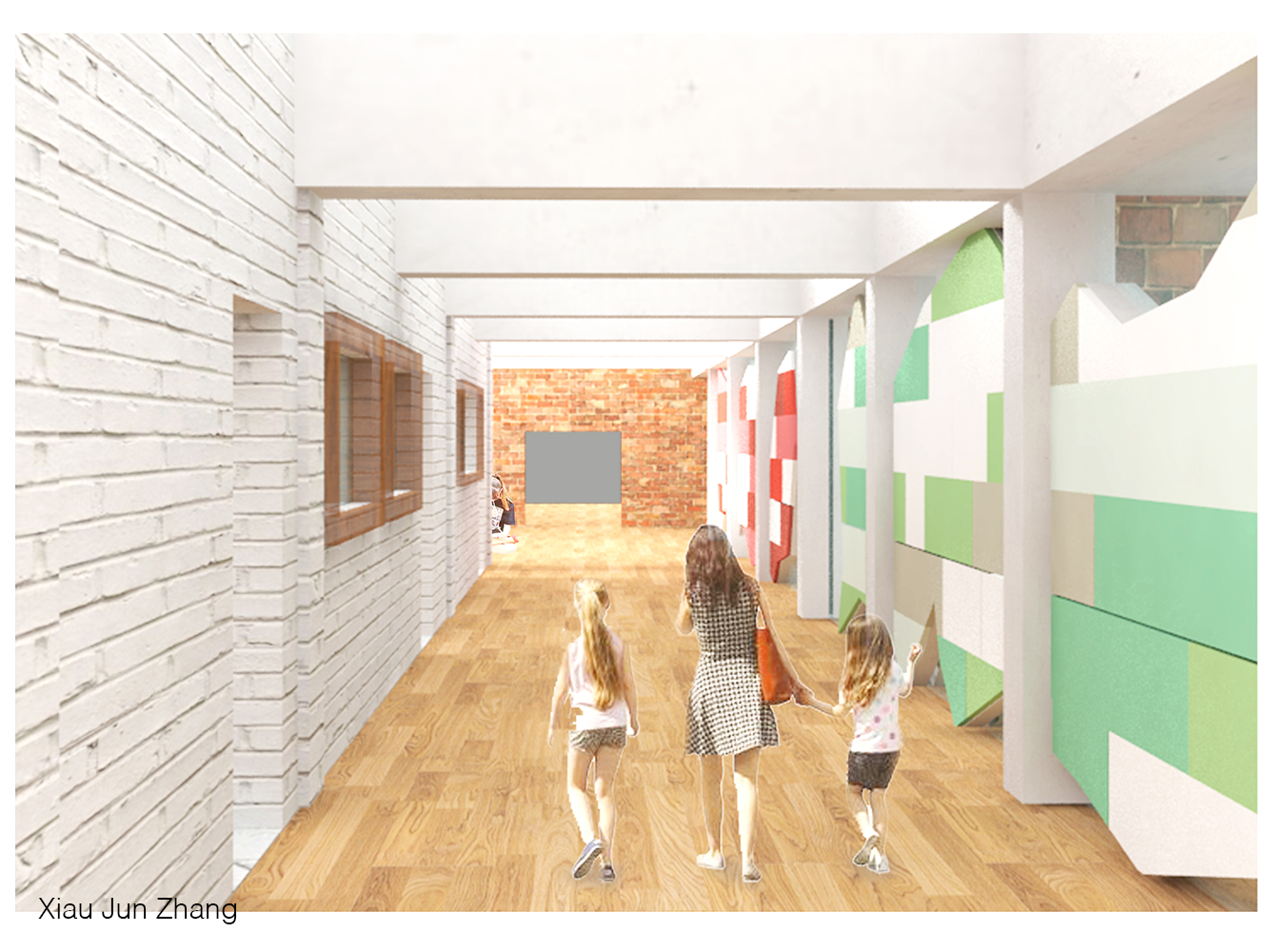 NOMADIC AFFORDANCES
Tutor: Tim Sullivan
Nomadic Affordances will be researching the notion of the nomadic, its relationship to the interior and its potential future: utopian digital nomads or apocalyptic Mad Max. The studio is the first of an ongoing industry partnership with Jayco Australia a caravan manufacturer. Nomadic Affordances will focus on identifying potential research pathways for future studios.
FEED BACK
FEEDBACK was animated by three conceptual concerns: site-specificity; sensory experience; and individuals' connections to place. The studio explored the creation of new sensory relationships between people and place, building a sense of belonging to the larger community through the built environment.
FEEDBACK was conducted as an interdisciplinary design studio that brought together students studying interior design, industrial design and landscape architecture. Students worked alongside a team of academics who have extensive expertise in the manipulation of sensorial phenomena in the production of public works of art and design.
PROPS & MEDITATIVE ACTS IN TABLEAUX
The studio engaged with techniques and ways objects and environments can intersect. Students were asked to approach the object as situation for the production of multiple 3D and 2D compositions. With a particular emphasis on experimentation of material, form and surface to explore the spatial potentials of images and objects, the studio questioned medium specificity and trace the ambivalent relationships between the original and the copy, as well as ideas of appropriation, iterative processes memory and acts of repetition.
The studio explored contemporary ideas of retail through the interplay between exhibition and retail, object and material by challenging the consumer relationship and experience.
CLUB HOUSE
Club House asked students to propose a design response to notions of a clubhouse that mutates and changes over time and through use and participation. Students were asked to unpack notions of what a clubhouse is through exploration, inquiry and speculation and to explore concepts around the framing of site and cultural exchange. Through investigation, the studio considered the traditional dichotomies of site and intervention, subject and object, art and design and exhibition and audience engagement.
The studio, exploratory in nature and consisted of a range of weekly readings, site visits, guest speakers and was broken down into 3 phases, beginning with exploring urban sites and the language and power of symbols in urban spaces.